Just like the cleaning of offices, buildings or industrial environments, Tunisia clinical cleaning is part of the services offered by companies specializing in hygiene and cleanliness. However, this type of service differs from other classic maintenance interventions, because it requires more qualification because of the pathological risks of the places concerned by the cleaning and the fight against nosocomial infections.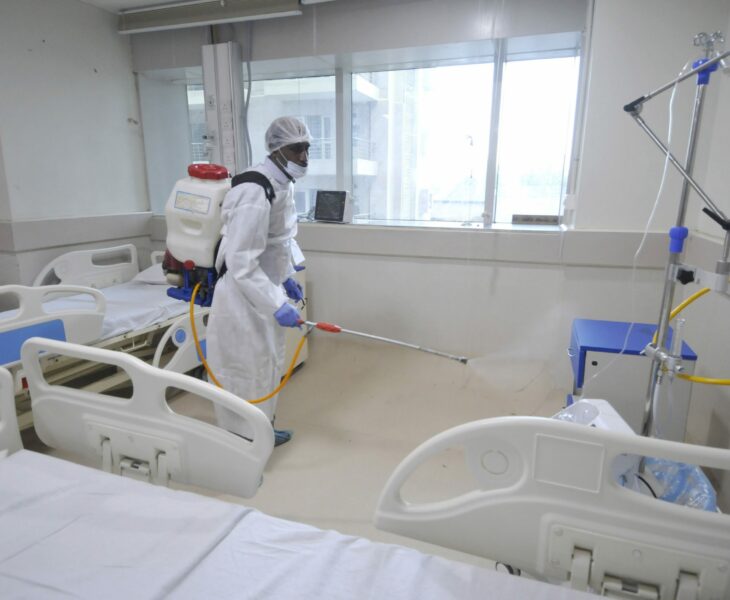 How to do a clinical cleaning Tunisia?
Disinfection of hospitals and clinics must be carried out carefully to avoid infections and minimize the risk of contamination.
For this, it is advisable to entrust the cleaning of clinics and hospitals to a company specializing in hygiene and cleanliness such as KSS cleaning.
Our company is an expert in this field and operates according to the rules and procedures in place.
We use the right cleaning techniques and we provide our customers with qualified agents for regular household interventions. Moreover, we take into account your activity and the type of your patients to better choose the cleaning products and materials to use.
Indeed, clinical cleaning Tunisia includes the following tasks:
Ventilation of rooms and offices to evacuate air and prevent the spread of viruses and bacteria.
Regular cleaning of floors with vacuum cleaners, then washing and stripping for thermoplastic surfaces.
Decontamination of surfaces (desk, furniture, light fixtures, air conditioners, sideboards) using a disinfectant, detergent and steam cleaning product to fight bacteria and viruses.
Cleaning of equipment made available to patients.
Maintenance of sanitary equipment, soap and toilet paper supply devices, single-use towels and removal of garbage bags.
Maintenance of curtains and net curtains.
Our cleaning agents intervene on the premises wearing specific outfits (gloves, glasses, masks) and using equipment suitable for cleaning clinics and hospitals: bio-cleaning trolley, cleaning products, etc. After each use all equipment will be cleaned! Our agents use disinfectant gel or wash their hands each time they enter another room.
In order to respect the health protocol put in place, the disinfection of hospitals and clinics is done in a logical order. Our hygiene officers begin maintenance with the least contaminated rooms and finish with those that potentially present a higher risk of contamination such as laboratories, waiting rooms, examination rooms, etc.
Who can perform Tunisia clinical cleaning ?
Medical hygiene is a very important point in the management of a clinic or other hospital environment.
Indeed, clinical cleaning in Tunisia is based on several protocols to be respected, whether in maintenance methods or the choice of disinfection products to be used.
The cleaning of clinics and hospitals must then be entrusted to a cleaning company offering maintenance services adapted to medical places.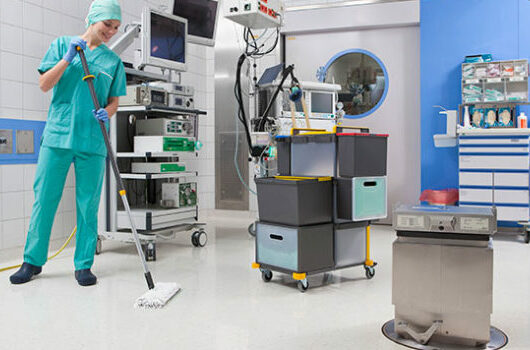 KSS cleaning has the necessary human skills and the materials required for the smooth running of cleaning operations. Indeed, the hospital environment is very sensitive and requires the intervention of professionals in the field of hygiene and cleanliness. Disinfection of hospitals and clinics by cleaning agents is a compulsory means of treatment.
These professionals have undergone strict training, according to the standards set by law with regard to the field of health. For effective maintenance of surfaces, they use specific equipment and cleaning products that comply with the health standards in force.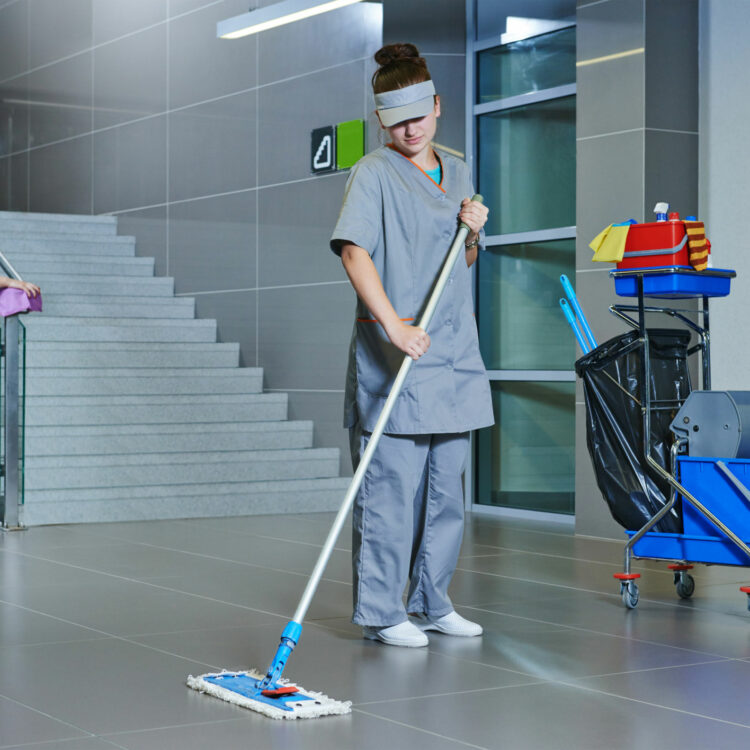 Tunisia clinical cleaning and disinfection service
The Covid cleaning and disinfection service in Tunisia is broken down into three stages:
Cleaning: this step includes dusting and wet sweeping to remove all the dirt accumulated on the surfaces to be cleaned without dispersing it in the air.
Rinsing: this involves the removal of dirt and micro-organisms with suitable products.
Cleaning-disinfection: using a detergent product and disinfectant product which contain biocidal agents to kill bacteria, viruses and micro-organisms.
To benefit from our Tunisia clinic cleaning services, contact us now and we will respond to your request as soon as possible.
Nous offrons un service Pro de nettoyage aussi bien aux professionnels qu'aux particuliers.