The good hygiene and cleanliness of a restaurant are among the first criteria considered by customers, as they reflect its appearance. To keep your restaurant always clean and leave a pleasant impression on your consumers, do not hesitate to trust a company specializing in restaurant cleaning services in Tunisia. KSS cleaning, is a qualified company and collaborates with many famous restaurants in Tunisia to ensure our customers a daily maintenance of spaces and kitchen. Do not hesitate to contact us to benefit from our services!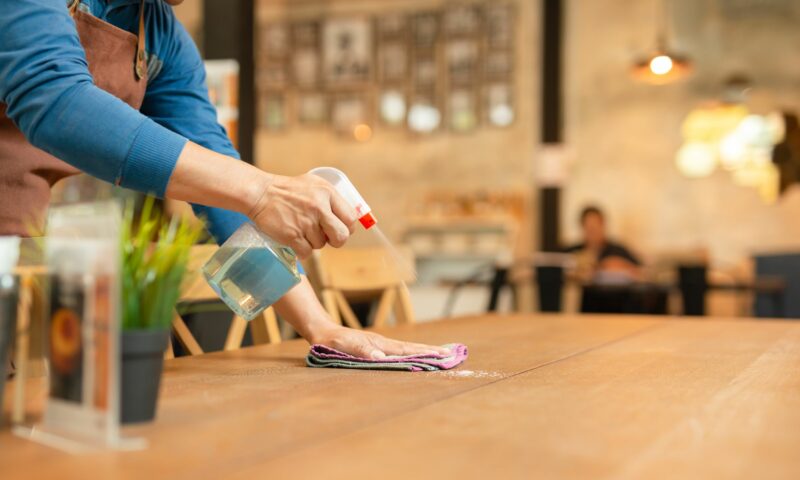 How is the cleaning of Tunisia restaurants carried out?
The cleaning of a restaurant is carried out on a daily basis. To do this, we offer you an involved, serious and punctual team that will take special care of the maintenance of your restaurant while respecting all the hygiene standards in force in the catering industry.
Depending on your short or long-term needs, KSS restaurant cleaning Tunisia is the best hygiene and well-being partner for your restaurant.
We adapt to each space in order to preserve your brand image and maintain the longevity of the interior decor of your establishment. Going from the maintenance of the rooms, the cleaning of the windows, the cleaning of the floors and walls to the furniture and passing by the toilets and all the kitchen equipment (hoods, plates, cooking appliances, sinks, etc.), we ensure that the rules of cleanliness are respected.
Our teams are well trained in the various cleaning and degreasing techniques. Our agents can use water vapor for the cleaning of guests, the disinfection of kitchens, the maintenance of extractors, ventilation ducts, and cooking blocks. In addition to steam cleaning, they can use spray degreasing foams.
Do you need a restaurant cleaning and degreasing service in Tunisia?
Do you want to entrust the restaurant cleaning in Tunisia to a professional in the field? Can't manage your tasks or focus more on what's new in the kitchen?
You want to devote more time to the digital and physical communication of your establishment.
No matter what you like to do, trust our company KSS cleaning and we take care of the maintenance of your restaurant with kindness.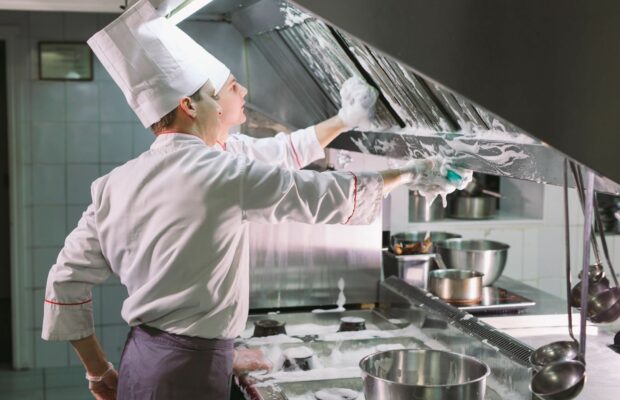 We put together with you as the owner of the place or with the designated contact, a well-studied schedule to facilitate the implementation of your work and the various tasks that will be carried out by our cleaning and degreasing teams.
This is important to keep everything clean, shiny and like new in the eyes of your consumers! In addition to sensitive areas, we also take care of the cleaning and removal of rubbish, as well as the maintenance and degreasing of your specific machines and equipment.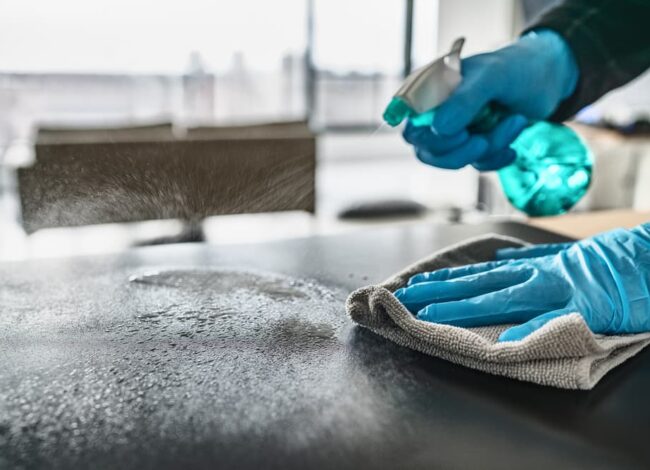 Cleaning and disinfection service restaurants Tunisia
In terms of hygiene disinfection and restaurant cleaning Tunisia, our company offers you tailor-made services intended for the restoration of your restaurant kitchen on a periodic basis.
Just like hotels, restaurants are also nests of micro-organisms and viruses, especially covid 19.
As a result, we have the know-how that allows our professional teams to relieve you of the Covid decontamination commercial cleaning, which is an essential step for the safety of your staff, and your customers.
Thus, the risk of spreading viruses will be less and your establishment will remain healthy and clean! We can schedule an intervention, so as to intervene at any time (even during the night or the weekend, if necessary).
We use suitable disinfectants and degreasers, for deep cleaning once a year during the summer months or when the kitchens are closed. Do not hesitate to contact us, to ask for more information and we will establish the best possible quote for a cleaning, perfect and impeccable and for the good hygiene of your restaurant!
Nous offrons un service Pro de nettoyage aussi bien aux professionnels qu'aux particuliers.